Today we talk about the most important part of the hobby. The assembly and painting of the miniatures themselves. It's almost shameful how many people play the games but never take that extra step in painting their models. Two pewter squads in a skirmish is a sad sight to behold. So don't become a lamer and learn the basics now!
Hot Lead
covers
many of these basics
so give them a visit. The good
Dr. Faust runs the gamut of questions
regarding paints and techniques. There are tons of useful links at
Miniature Painting.net
so be sure to give them a visit as well.

There are also professional painters online that offer tips and sell painted miniatures. Fantastic painter Arjay hasn't updated his
website in forever
, that's not to say his art has faded with time. The same thing can be said about the Italians at
Beltane
studios or the Brits at
Broken Blade
. Be sure to peruse their galleries and be awed.
The Jenova Project
also hasn't been updated in forever but their
forum is alive and well
.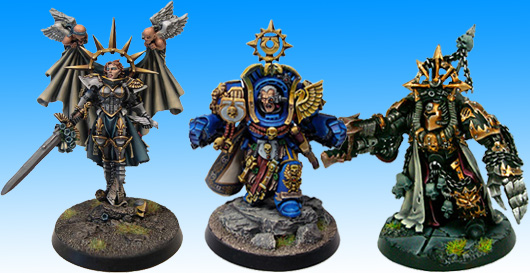 Chest of Colors
is one of the best painting sites I've ever visited. One of the artists, Benathal, custom built and painted a
Legio Custodes squad
which are as good if not better than those put together by the
best at Games Workshop
.
Zinnfiziert
has a blog where he posts current projects, be sure to check it out.
Witchhunter's site
is just as keen and he posts plenty of pics from current and past projects.
The Lone Brushman
also has some great tutorials and a kick-ass gallery.
Urb's World
hasn't been updated in a while but his painting is solid, be sure to check him out too.
Some sites are dedicated to a specific company or line of miniatures.
Brushthralls
is a very active painting crew that create articles for Privateer Press. Of course their tips and techniques can be used on any miniature.
The Daemonic Legion
is a gathering place for fans of Chaos from Warhammer Fantasy Battle.
Hive Fleet Moloch
is dedicated to the Tyranid from Warhammer 40k.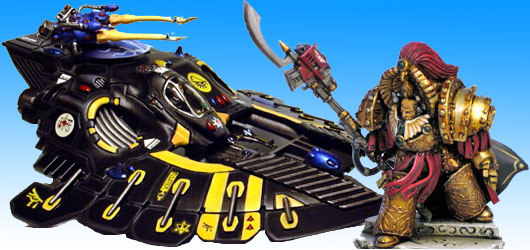 Agis
is a great site about painting and modeling. The webmaster Agis Neugebauer, goes to the trouble of writing details for the models and back story for systems you might not be familiar with. Be sure to check his painted HeroClix figures. Yes, they are already pre-painted, but if you go over the details again you can really bring characters like the
Avengers
to life.
Even though I've been hard on the Japanese these past few blogs there is hope for them yet!
Qiao-Zhong
is Chinese but lives in Japan and living proof that the Asians can produce very talented mini artisans. Check out the custom versions of the Emperor, pre-heresy Fulgrim, Jenetia Krole and pre-heresy Ahriman. They are amazing!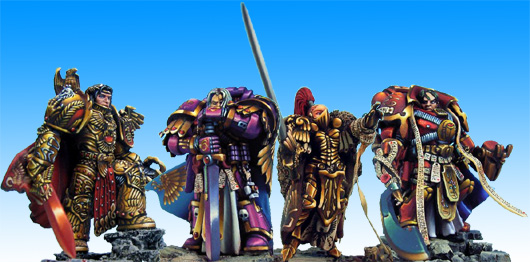 Of course most painters shouldn't
mess with the French
. If you are a young woman reading this series then please don't be discouraged by the lack of female names. Many of the best miniature painters and sculptors are women. Award-winners like
Angela Imrie
,
Nathalia Melnik
and
Victoria Lamb
prove that the hobby is not gender-specific. Plus even Mike McVey is humbled by the artistic ability of his wife Aly. So guys and girls, pick up a brush and see what you can do!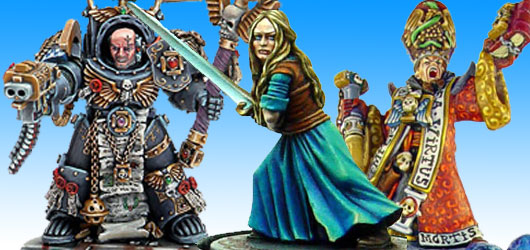 One of the best sites for everything mini is
Cool Mini or Not
. Like a hot or not, it's a place where you can vote on minis, enter competitions and keep and eye on auctions.
Mini Painters.com
is also a keen site that reports the happenings in the community.
So what about the supplies themselves? Brushes, drills and glues can be picked up at most hobby stores. Of course if you are budget minded this is a tough hobby to last long in. The word of the day is acrylic. The majority of miniatures are painted with acrylics because they are water-based, mix, cover well and dry quickly. All of the big companies mix their own paints and sell them in crack-like quantities.
Citadel Paints
,
Rackham Color
and
Privateer Press' P3 Colors
are designed with the miniature gamer in mind. This is not to say there is anything wrong with the paints from big companies like
Tamiya
,
Testors
and
Vallejo
. People that have been in the hobby a long time will have paints from many different companies and readily mix their own colors in spare bottles. Since the paints are water-based, most can be diluted and mixed without fear of separation or blotching. But what if you really need to stretch your dollar for the hobby?
Apple Barrel
is possibly the best-kept-secret in miniature painting. Plaid is a hobby company that makes a variety of products, but their acrylic paints are sold in larger bottles than most and are also inexpensive. Best of all you can find these paints at places like Michael's and Wal-Mart. Remember them if you're thinking of painting minis as a hobby rather than getting into the gaming aspect.
If you are building a large model or scenery for a game then it makes no sense to use up the thimble-sized acrylics. Instead swing by the Home Depot and look for their "oops paint." These are colors mixed by the gallon for special orders and either the person doesn't like the color or they never return to pick them up. Rather than throw the paints away the Home Depot sells them on the cheap. You can paint table-sized dioramas with these paints or ask them to mix up your own colors for cheaper than buying gallons of acrylic. This same paint could just as easily be used to repaint a room or prep a wall for graffiti. As for the paint brushes and tools like x-acto knives and clippers, just shop around. A set of paint brushes can be picked up for
under $5 online
. If you go to school then check with the art department and see if there are any stores in the neighborhood that give student discounts. Shop around and save the money for miniatures.
That does it for today. I hope there are enough links to get you interested in actually picking up some minis and paints. Tune in next week to learn about companies that I missed and systems you might want to check out.