You've already seen how big models, like ships and buildings can spruce up any tabletop game. As they saying goes, the devil is in the details. Even something as simple as a felt map and a few plastic trees can add atmosphere to a table. In addition to building and painting miniatures, many hobbyists take the extra step to make scenery and terrain as well. The devil here is that many go to the trouble of sprucing up even the bases that the miniatures stand on.
Groundforge
modeled bases are great in that niche. Let me give you another A-Z on companies that can help you turn any table into a battlefield.

Felt mats are the easiest accessory to pick up for a game, they add character and texture to the environment, best of all they can be rolled away and stored with ease.
Hotzmats
makes some great maps with various prints, grids and hexes on them. They also offer mats with no grids on the backside for regular, ruler-based systems. Check out how much personality something like their
western town
mat can add to a few
cardstock models
.

While we're talking about cardstock modeling, be sure to look at
Microtactix
for their city buildings. Perfect for a HeroClix game, wouldn't you say? Die-hard tabeltop gamers may start their tabletop sets with cardstock, however like all serious hobbyists cardstock will never replace a resin or metal model. A good place to start for basic war and even wild west terrain and buildings would be
Frontline Wargaming
. As you can tell, a good chunk of the hobby is based in Europe, where many of the major events in the past 100 years have happened.

Models specifically for tabletop gaming can be as detailed as any hobby kit. These people have a catchy name and the models to match,
Snapdragon Studio
makes everything from bunkers to post-apocalyptic (Mad Max) scenery. They also make the little bits that make gaming fun, be sure to flip through their catalog. A contemporary, with some choice pieces and great buildings is
the Miniature Building Authority
. These people even make resin dumpsters and porta-pottys to add realism to games set in the modern world!
Hovels Ltd.
makes great building models for different eras and even in different scales, from 25mm to 1/300mm.

When it comes to sprucing up a tabletop battle with dozens of tiny details, like barrels, crates and stone ruins
Fantascene
is one of the best. Their
gothic terrain
is very, very good but their
Eastern Ruins
are impeccable. When it comes to quality
Pardulon
makes some highly-detailed resin kits. Their buildings are very european but the details, such as the
blacksmith's fire
would work anywhere from a fantasy to a western setting.

Kilroy
has some unique items that you won't find elsewhere. So don't be put off by the unicorn-zebra and rose on the front page. Check out their
fountains
and
crystals
for fantasy and sci-fi games.
Monolith Designs
makes terrain for a variety of eras. Their
Aztec line
is great and superbly detailed, something that my pal Vince will love.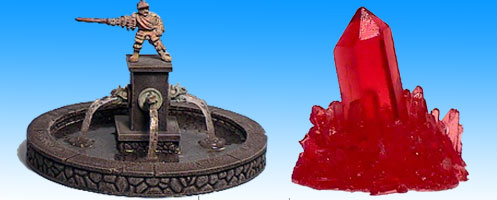 As far as sci-fi goes, Warhammer 40k specific, nobody can touch the terrain and accessories by
Antenocitis Workshop
. Check out their
sci-fi range
and prepare to drool. Yup, they work with LED and fiber optic cables on their more expensive sets. If you want to see how incredible a diorama using the various models would look then check out
Kobblestone
, the diorama authority.

Here's as good a place as any to remind you to visit
Gale Force 9
for licensed terrain and accessories. But did you know that there is a company run by Games Workshop catering to die-hard modelers in the Warhammer and 40k universes?
Forge World
produces resin kits for veteran gamers. Resin allows for great detail in small and large models but costs a little more to produce. Forge World exists to save the reputation of Games Workshop and Citadel Miniatures. While other companies are stealing away talent and ideas, Forge World consistently comes up with amazing models that can go toe-to-toe with any other manufacturer, Rackham included. They make everything from tiny details to spruce up WH miniatures to massive tanks and aliens for 40k and are worth looking at if you are serious about getting into the hobby.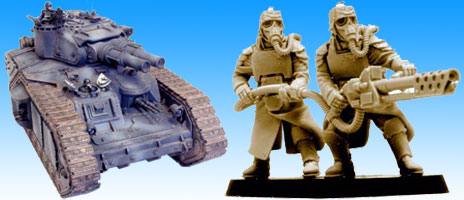 Games Workshop has gotten wise to players in need of great models so they have just started on brand new
Warhammer Scenery
. These models will be based on some very detailed buildings built by the best modelers at Citadel.
Check out the models that inspired this release
.
This isn't to say that Rackham has been sleeping. Very recently they have opened their resin wing (in Britain!) under the
Fire Industries
banner. The war between Games Workshop and Rackham for your hard-earned dollar just got more intense!
This wraps up the terrain and scenery feature but something has been bubbling in the back of my head. What good are all these miniatures if you don't know how to paint? Come back tomorrow for painting tips and useful links.