Welcome back friends, I hope you had a great weekend. Today brings us one step closer to the end of this series. Let's start by saying that if you are interested in getting into the hobby then you are not alone. Beginning players will never be far from a community.
Even a
Specialist Game like Blood Bowl
still attracts new players from all over the world. Even if GW is slow in updating the system and players, there are fans updating the rules and making variations on the system.
Blood Bowl Central
is a repository for all sorts of info. When partnered up with the sites like
Blood Bowl.net
, the BB library and the
NAF
(Blood Bowl Federation) then you never are far from a game. Plus you'll find that other companies really dig the fantasy football format.
Heresy Miniatures
makes characters for a Blood Bowl contemporary known as
Deathball
.
Impact Miniatures
makes odds and ends for BB games plus sells bundle packs of non-GW minis. So if you are seriously considering getting into the hobby, there will always be a community willing to support you and your system! With that said let's take a look at these companies I missed.
Adiken
makes a system called Nin-Gonost and even offers a self-conatined set with paints and miniatures. The system is progressive, with cards and templates to help you keep track of stats. The miniatures are okay but there's a reason I didn't post this self-contained system earlier. At one convention the people demoing the game were pretty rude to my brothers and I, so I didn't want to give them any free publicity here.
Give
Amazon Fantasy
a visit if you want to spice up the tabletop. This company has NSFW nekkid chicks and guns. Something that appeals to every man, especially that super-man Smashbro! The parent company,
Amazon Miniatures
makes ninjas, kung-fu fighters and historical minis as well.
FANS OF ANIME PAY ATTENTION!
Anima
is a very ambitious project.
Edge Entertainment
out of Spain is publishing and handling the RPG version, Cipher Studios LLC is creating the miniatures for the tabletop version (Anima Tactics) and
Fantasy Flight Games
is handling the collectible card game. I'm telling you they have their bases covered! The system is like a breath of fresh air. The designs are very much inspired by manga and anime, not western artists trying to copy a style, but actual Japanese art! Moreover the influence is not solely Japanese, but also Chinese and Korean as well! Visit the site and you'll see work reminiscent of the Magna Carta designs by
Hyung Tae Kim
.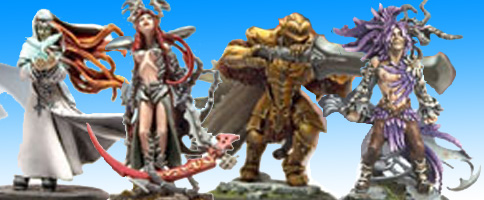 Assassin Miniatures
is a little company that makes original figures. They believe in the integrity of their work and only produce one run of each figure, so once they're out that's that.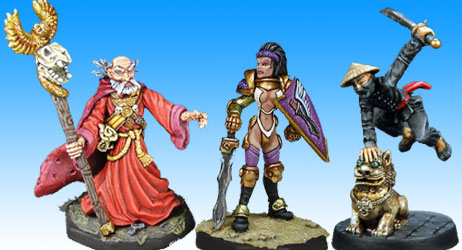 Avatars of War
is a one-man operation. Felix Paniagua is a sculptor for Privateer Press, on the side he makes some amazing figures. His elf, orc, goblin and dwarf "Avatars of War" could easily be heroes in Warhammer Fantasy Battle.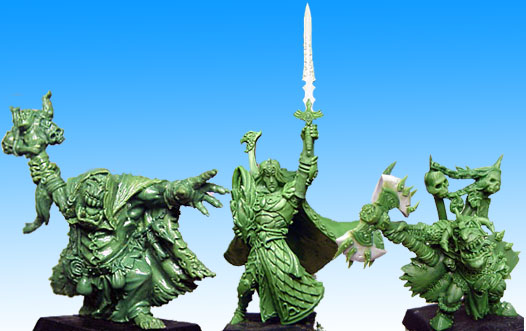 Cold War Miniatures
makes minis for Stargate, yeah from the sci-fi TV series based on the movie. They also make some keen zombies. Keep the zombies in mind for a system I'll mention a few lines down.
Crystal Caste
makes all sorts of goodies. Known mostly for their metallic and crystal dice, they also offer the miscellaneous things for the gamer, such as bags and tokens. They also make pre-painted minis in a variety of genres, from fantasy to western.
Dark Age
is a system based on a hybrid of ideas. Magic versus science and swords versus guns. Their skirmish game is very straightforward and tight. Their miniatures are very macabre, featuring designs by the great
Brom
.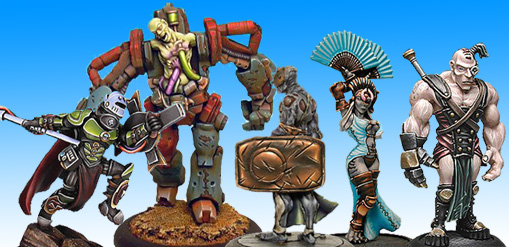 The name says it all.
Discount Mini
is the store you want to visit if you decide to pick up any of the minis or systems that I've been talking about these past few weeks.
Dragonblood Miniatures
makes a handful of miniatures. Their work is made with the painter and collector in mind. People working on dioramas should give them a visit.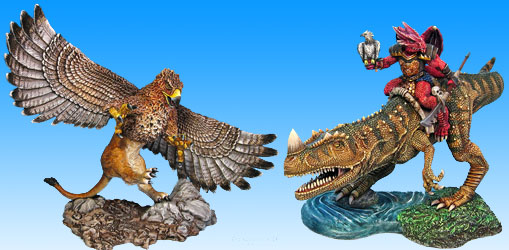 DragonRune Miniatures
hasn't had a web update in years. Their miniatures are good but nothing spectacular. Felix Paniagua sculpted some of their minis years ago. Their small boxed sets are good for people looking for unique characters. Check their Komodons if you are playing characters for sea battles.
Dwarf Tales
is a very small group (I think it's one or two Polish sculptors) that specializes in very nice dwarf figures. They have a keen eye for detail and make the types of designs that you wish Games Workshop would adopt (or buyout) into Warhammer. Like other small studios they don't work very fast but each release is highly anticipated.
Fantasy Flight Games
licenses and publishes a number of systems. This includes board and card games for
Warcraft, Marvel Super Heroes, Doom and Anima
. Their biggest contribution and innovation to the world of tabletop gaming is in the game
Descent
. This game is a self-contained system using nice miniature sclupts, with easy-to-read cards and templates. The moveable tiles help it play like a board game more like a complex skirmish system. Fantasy Flight also makes expansion packs for Descent so it never becomes boring.
Fenryll
is a French company that produces some quality minis. They make a version of just about every fantasy creature that's ever been written about. While not in the same league as Rackham, their miniatures are still good. Be sure to check out their buildings, chaos and dragon figures.
Freebooter Miniatures
is a hodge-podge of different sculptors producing minis mostly for collectors and painters. Aly McVey has contributed some original work with them. Their minis are slightly larger than the 28mm standard but it's all-good considering the originality of the designs. Plus they have some of the best female sculpts around. Give them a look.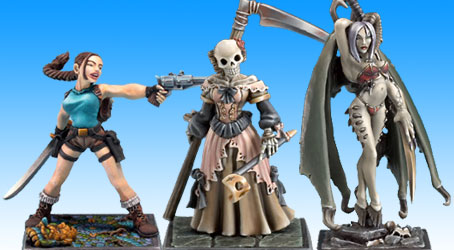 Gamezone Miniatures
is small Spanish company whose crude website beguiles the quality of their work. Pound-for-pound these guys produce minis (especially horses and other mounts) that rival Rackham's. The detail is amazing and the design a perfect balance (or the bastard child) between Rackham and Games Workshop. These guys have a solid future but if their company were to partner up with Corvus Belli, makers of Infinity, then they'd be a powerful rival to the Rackham and GW.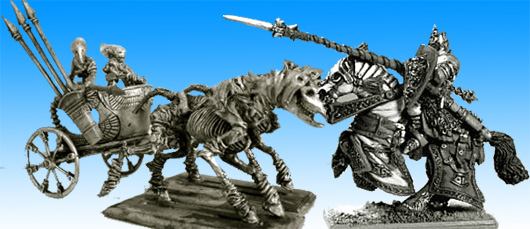 Griffin Miniatures
makes a handful of minis in the fantasy and sci fi realm. They are influenced by a variety of systems and companies. Their
Harbinger
figures and
Alien Encounter
figs are nice. The upcoming Cravid minis look very much like the
Invid characters
from the old Robotech cartoons. If you are thinking about getting into the hobby as a painter be sure to check them out.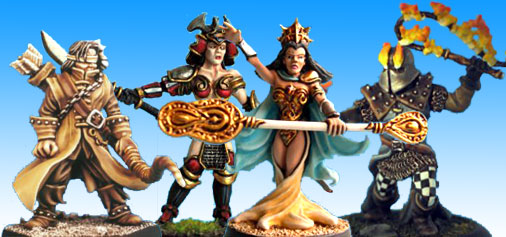 Hell Dorado
is an up-and-coming French skirmish system. I can't read much French but gathering from what the web translators say this skirmish game looks like conquistadors versus demons. The hook here being that there might be an animated short accompanying the launch of this system. Fans of Dark Age might want to check it when it gets translated into English.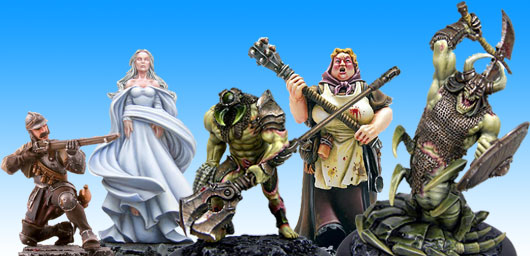 Magister Militum
should have been mentioned way back when I was talking about historical wargames. The sell
rules for various systems
and make a slew of miniatures as well. These people have a great distinction however. Traditional historical Chinese minis are published by other studios, but nobody has the A-Z of
Chinese Fantasy
characters that they make. This is a must-visit page for people that want unique minis.

Magnificent Egos
makers of the
world's biggest miniature
rarely update their company page. At least they update
their blog
more often.
Maidenhead Miniatures
is another NSFW amazon-themed company. Smashbro's amazon army will be quite impressive when he picks up the various chariot riders Maidenhead makes.
Mega Miniatures
is a distributor for smaller mini makers. This means that you can often find any hero or monster that you're looking for plus all sorts of accessories and models to spruce up the table.
MSB Toys
shares something in common with Magister Militum. They make fine resin minis of Chinese mythology including the classic
Journey to the West
characters. Be sure to check the totemic warriors from the
Aazac
range.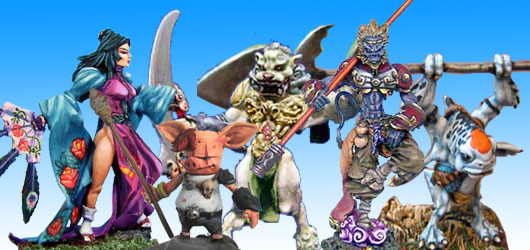 Pinnacle Ent. Group
publishes a number of RPG games, possibly their most famous is Dead Lands. All of the games use the
Savage Worlds
system. I'm not going to open up the can of worms that is tabletop RPG games but I will plug
50 Fathoms
because the mix of pirates, sea monsters and Cthulhu-like creatures makes for some pretty
sweet miniatures
.
I'm not even sure if
Plaster Obsessions
is still around or if their webpage is the only thing live. They make some inexpensive models of castles and towers to use for siege games and whatnot.
Pig Iron Productions
makes some power-armor minis and tanks that are rough but stylish. They don't belong with any system so are perfect for collectors or people looking for unique models to shore up a modern or 40k scenario.
Of course I've been going on and on about games and paints and scenery but have yet to tell you a crucial bit of info. Most of these games require dice. Gale Force Nine and Crystal Caste make dice, but
Q-Workshop
specializes in dice. Don't be a rookie and actually get yourself some pimp dice for your games.
RAFM
has been in business for years. They make a broad range of
historical
minis as well as those for
fantasy
and
the Call of Cthulhu
.
Reaper
is a big name around these parts. They make great miniatures by the bucketful. If you can imagine the hero or monster then chances are they've made a mini for it. This goes for ass-kicking robots as well. Best of all their sculpts are clean and can slide right into any other companies system with ease.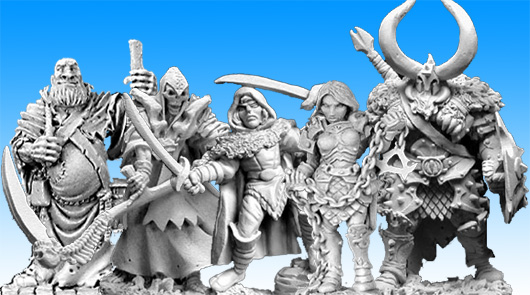 Sabertooth Games
is owned by Games Workshop and makes collectable card games. Aside from GW content, they hold popular licenses including Street Fighter, King of Fighters, Samurai Showdown and Soulcalibur. Best of all these cards have universal stats so if you want to play between Capcom, SNK and Namco characters (like an analog version of MUGEN) then you can!
Shadowforge
is out of Australia. They make mostly women for various genres, lots of gratuitous boobs on their page... I know where Smashbro is going now... anyhow their minis are okay and they got lots of love for inventing Blood Bowl teams. Give them a visit if your army needs a few women characters.
Twilight Games
is a standout company. PAY ATTENTION. They make a little game, scratch that, they make a KICK ASS GAME, titled ZOMBIES!!! It's slowly getting under the skins of my brothers and soon it will get under the skins of my friends... mark my words! The game is straightforward, survive a swarm of zombies. The expansion packs take you to the mall, a military base and college. It's the usual stuff for the genre but plenty of fun at a get-together.

Victory Force
makes a number of soldiers for WWII. However they should get a visit for their Shirow-ish
JC Figures
,
Victorybots
that remind me of
Project Grizzly
, and Jon-Roh-ish
New War
minis.
Wyrd Miniatures
is a small company that only makes a few minis. However their community is a melting pot of styles, be sure to go through their various contests to see some amazing entries.
Zombiesmith
makes zombie miniatures, enough for a good sized mob. If your tabletop game needs taking over, he's the man, err, zombie to see.
There are some great pages with news and info for all your hobby needs.
Miniature Wargaming
,
Tabletop Gaming News
and
the Miniatures Page
are possibly the three biggest and most frequently updated sites. They let you know all the important release dates as well as drop tips, reviews and previews from the big and small companies.
That just about does it for the month and this series. I hope you found something to pique your interest and perhaps have a little more respect and understanding of the tabletop gaming community. Tomorrow I'll wrap everything up and try to figure out where the industry is headed. Be sure to come back!