Welcome back friends! Now lets check out a plethora of things on my favorite genre, the old west. There are plenty of gaming systems for the wild west. Why shouldn't there be? The frontier mixed with the settlers. A gold rush, immigrants from the orient, cowboys, indians, Mexicans and train robbers! This was one of the most exiting periods in history, for some it's the equivalent of knights and damsels, real heroes and villains than gave rise to legends. As far as skirmish games go what more could you ask for? A six shooter, horse and posse, let's start the adventure!
One of the early systems and still a great one is titled
Gunfight!
and made by Flagship Games. They also created the samurai skirmish rules and pirate system mentioned in previous blogs. Just like their other systems they'd like you to think about getting miniatures from Redoubt Enterprise. Of course Redoubt doesn't make any cowboys but they do have some good
Native Americans
from the French-Indian Wars. They also make some boss
Chinese fighters
from the Boxer Rebellion. These miniatures can represent the early settlers (aka slaves) during the goldrush and also founding Tong gang members.

Another classic system is Cowboy Wars from
West Wind
. In the USA the system is distributed by
Old Glory Miniatures
. Of course you can also line your pockets with miniatures from Old Glory as well. Be sure to check out their club benefits if you are a fan of pirates.
Monday Knight Productions
makes a skirmish game called Desperado. The company even makes some fine miniatures including natives, banditos and scenery to spruce up your games. Miniatures of injured characters always add personality to the tabletop, be sure to check those out. There is a
French site dedicated to Legends of the Old West
. Be sure to visit the page to get patterns that you can print up and use as period appropriate wallpaper and textures for model buildings.
The new kid on the block is
Hawgleg
. Their system, Gutshot, is proving to be a popular system due to its ease of use and open world adventures. They don't make miniatures but neither does Warhammer Historical. I've gotten all four books from Games Workshop's
Legends of the Old West
series and greatly approve of their system. Granted the fourth book was a bit slim and they could have doubled the content, but as a whole the skirmish rules are fun.

That just about covers all of the major systems. There are tons of RPG systems set in the west as well, but this blog series is about miniatures so tough luck if you think I'm telling you what they are. I will however give you the list of the other great west miniature companies.
Artizan's made my blog a few times already for their WWI-WWII and Thrilling Tales. Their
Wild West
line is exceptional! They also make time-appropriate cavalry, natives and banditos. Be sure to keep them in mind if you decide to get some minis.

Black Scorpion Miniatures makes some detailed minis under the
Tombstone
label. They also aren't afraid of making women with revolvers and rifles as well! The only downside is that they are in an oddball 32mm scale, making them appear a bit taller than every other miniature manufacturer I've named. Be sure to keep an eye out for the pirate figures they are working on.

Conquest is the absolute authority on native miniatures. Made mostly for the French-Indian War, the minis from the
500 Nations
line would fit seamlessly in western campaigns.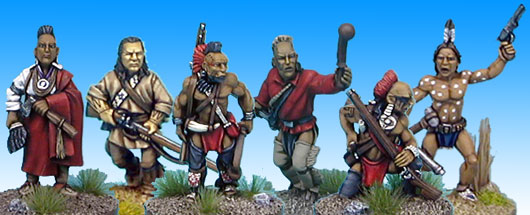 Dixon Minis makes a great collection of
cowboys
in various dramatic poses. Their banditos are pretty good and their
natives
and cavalry are spot-on. Be sure to also give their injured characters a look.
Foundry is without a doubt the most shameless miniatures manufacturer ever. Not that it's a bad thing but after checking their
Old West
catalog you just might never visit another site for minis. The sets they offer are almost obscene, check out their massive
hordes
.

The Foundry even makes some cool
Zombie Gunfighter
sculpts. Speaking of fantastic western characters be sure to check Jeff Valent Studios miniatures for
Great Rail Wars / Deadlands
figures. GRW and Deadlands are an RPG system based in an alternate Earth where magic and guns collide... Steven King would be rolling in his grave!
If I were to recommend a one-stop shop then please visit
Knuckleduster
. They carry just about all the systems and miniatures you'll need including their own line. The guy that runs the site and store, Forrest Harris, is really amiable and makes some great suggestions for everything western. Bookmark the site if you're interested in these systems.

Before this blog wraps up I want to give you a hint for things yet to cover. If you visit
Witchtown Tales
you'll get a glimpse as to how these miniatures can work into a grander scale. Whitchtown is a fictional western town where skirmish games happen. The residents are made up from the various western models. The artist that put the site together, the
Mad Painter
drops in some subtle clues as to proper modeling techniques. Let's say you have a miniature that's 25mm and one that's 32mm but they are supposed to be closer in scale. He puts shorter figures on bases with rocks to make them appear taller. Pretty clever!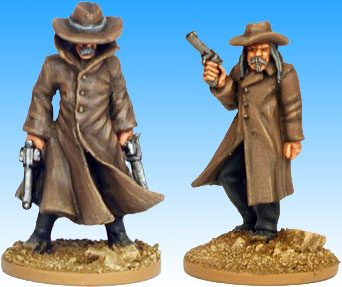 More sites on modeling and painted are coming up. As well as the companies that make very detailed terrain and buildings to go along with the minis. Here are a couple more links for you. If you are a budget-minded gamer then the cardstock
Whitewash City
is right up your alley. Holtzartworks does a really great job giving the models a classic feel.

Let's say you were made out of cash money and had plenty of space to set up a decent gaming table. Then you might want to think about getting real models from
Arnica Real Estate
. They make everything from banks and jails to tents and outhouses. Give them some serious consideration if you are getting into the hobby big time.

This about wraps up everything there is to know about the wild west and tabletop gaming. Now that I've given you a taste of modeling tune in tomorrow to learn how terrain and modeling can take a skirmish game to the next level!

Technorati Profile