WizKids
has been producing click-based systems for many years now. These games have a pre-painted figure over a numbered base. The base contains the vital information for the character, dubbed the "combat dial" and allows gamers to play a miniature adventure game relatively easily. The first major system featuring this innovation was the wildly popular
Mage Knight
. After studying the trends of collectible card-based games, WizKids (WK) learned that by inserting random "rare" figures into packs that more boxes would be bought by gamers and collectors.

Within a short span of time WK had developed enough cash to license popular IP, including superheroes, which they dubbed
HeroClix
for both
Marvel
and
DC
. They even began licensing
independent
comic book characters as well. Over the years they have continued expanding their clix line to include more adult-themed systems such as the gruesome yet cool
HorrorClix
which includes movie licenses like
Aliens Versus Predator
. For pre-painted systems the sculpts and designs are good. The popularity of these systems has caused for the industry to call the 1 1/2-inch height of these figures "heroic scale."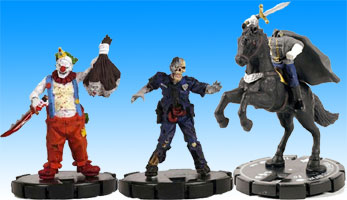 Other companies like
Wizards of the Coast
, known best for creating
Magic: the Gathering
, have also gotten into the pre-painted miniature genre. Since the own the Dungeons and Dragons IP they began producing
collectable miniatures
for it. They also began making minis for
Star Wars
. However their latest system,
Dreamblade
takes a closer cue from the Clix series. The little figures have stats on their bases and are played on a grid. Combining a little strategy and a good roll of the dice Dreamblade plays like a 3D version of Magic. Fans of collectible card based games, and are interested in miniatures should check these games out.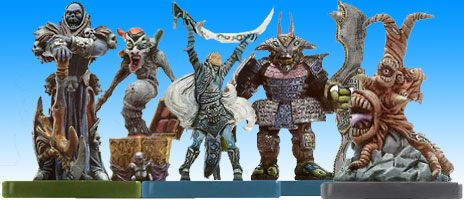 WizKids and other manufacturers make accessories to spruce up HeroClix games, such as little maps making up a park or building along with 3D trees and soda machines. Thanks to the advent of desktop publishing an entire genre of hobby scenery has popped up. Heroic scale fans can now use a home (work or school) printer and cardstock to print and a little tape or glue to assemble 3D buildings.
Cabil
is one such company that offers skyscrapers in that scale as does
MicroTactix
. The undisputed king of cardstock modeling is
Worldworks Games
. In all honesty they are in a league of their own. Check out the detail they put in models like
Mahem Rail
(perfect for HeroClix),
Castle Works Ultimate
,
Cave Works
,
Gothic Realms
and
Shellendrak Manor
. You would be hard pressed to find better models for the price.

Self-contained games made out of cardstock have become quite popular in the past few years. WK makes a few self-contained systems roughly the size of trading cards. These cards are punched out and everything from
Spaceships
to
Pirate Ships
can be assembled. Pirates is especially neat with their variety of ships and self-contained experience. Not to mention that the game reminds me of the old Man O' War system.

If, however, giant robots are more your style then check out WK's other clix-based system,
MechWarrior
. MechWarrior is actually based on a system published more than
20 years ago
. This new version combines the ease of use of the clix with good quality pre-painted miniatures.

Best of all there is a company that makes exceptional terrain for HeroClix, Pirates, MechWarrior and a variety of other systems.
Gale Force Nine
is a company that is very good at securing licenses and supplying hobbyists with the things they need to enjoy their games, from scenics to dice and spell counters. I strongly suggest checking them out.
I just dropped a quick link on robots, are there any other systems based on them? When am I going to get to outer-space combat? Find out tomorrow!
EDIT: My pal Kusa dropped a link on me this morning, it seems that Xbox Live Arcade and the Playstation Network are going to get versions of
Games Workshop's Talisman and WizKids Rocketmen
. Talk about perfect timing for these blogs!